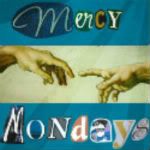 The idea for Mercy Mondays began when I kept bumping up against the concept of God's mercy and found I couldn't clearly define it.  The more I thought about it, the more curious I became.  Sure, I could get a handle on the seminary-textbook definition of mercy, but what about the actual character trait? What does it mean to receive mercy, to be merciful?
I wrote a blog post called "Mercy is My New Little Black Dress," and then started inviting people to explore mercy with me.  The first person to do so was the talented Tanya Marlow in her wonderful post "Church, Have Mercy."
The most important thing I need you to know about me as you read about Mercy Mondays is this, and I want us all to be so unbelievably clear on this one fact: I am not an expert on mercy.  (That sound you may be hearing is the sound of the people who know me and are reading that last sentence.  They're laughing uncontrollably at the understatement contained therein.)
Mercy Mondays is just a place where we can explore God's mercy together.  Let's dig in to what it is, how we experience it, how we can pass it on to others.  On the second Monday of each month, I'll share a prompt and my thoughts on that prompt.  I invite you to write on your blog and link your post (the individual post, not your general blog address, please) on that Monday's list.  If you prefer to leave your thoughts in a comment rather than a link, I'll be honored to read them, too.  Your participation will make this a community seeking mercy rather than a lonely lecture series.
If you prefer more time to reflect on your thoughts, you may contact me at hobwas at yahoo dot com, and I will be glad to send you the prompts ahead of time.  No commitment is required.  Join in frequently, occasionally, or simply by reading what others have written.
Because this is a topical link-up, I ask that the linking posts stay on the topic of mercy. While I understand the impulse to link with several link-ups at a time, Mercy Mondays exists for us to delve into the ways that God's mercy has affected our lives. Please understand that I welcome any direction your thoughts take you about mercy, but blog posts about other topics will be deleted. I feel somewhat awkward about this policy, since it seems contradictory to the idea of mercy, but I have contacted some writers about how central the topic is to this link-up, and my requests have gone unheeded. (And besides, I already confessed that I'm no expert on mercy, so I'm drawing the line, y'all.)
Feel free to grab the Mercy Mondays button (in the left sidebar of the home page) and share it in your post or on your blog!
Mercy Mondays topics have included: